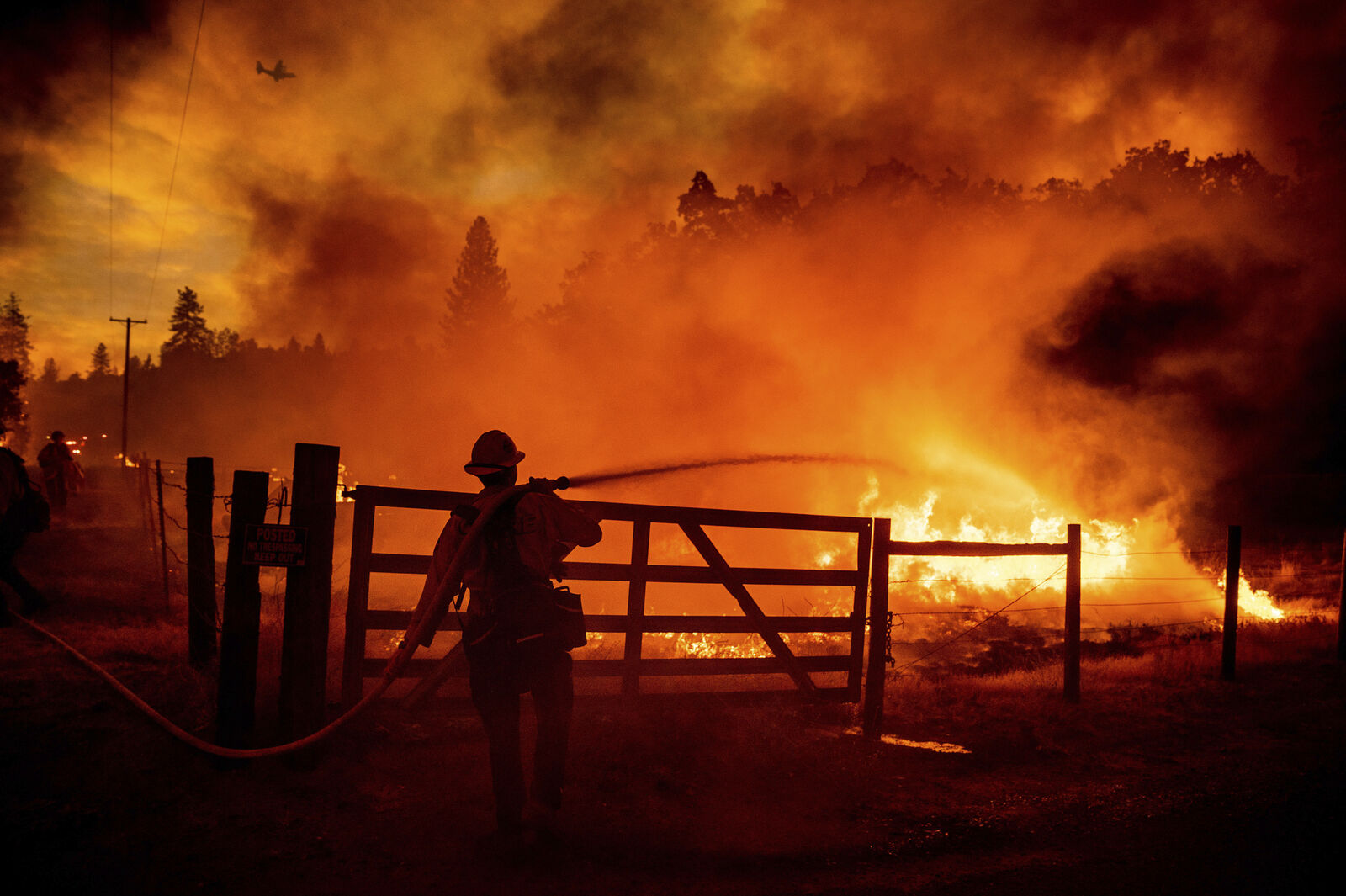 House approves bill to help West fight wildfires, drought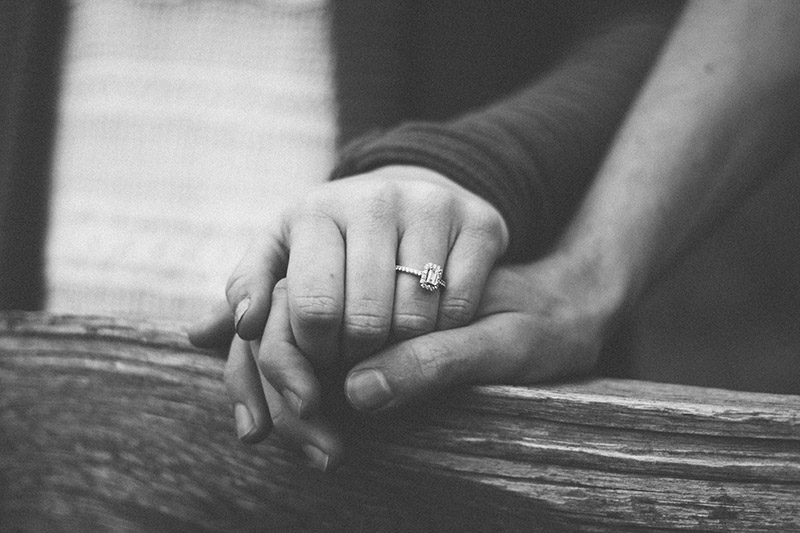 Research: Firefighters With PTSD Likely to Have Relationship Problems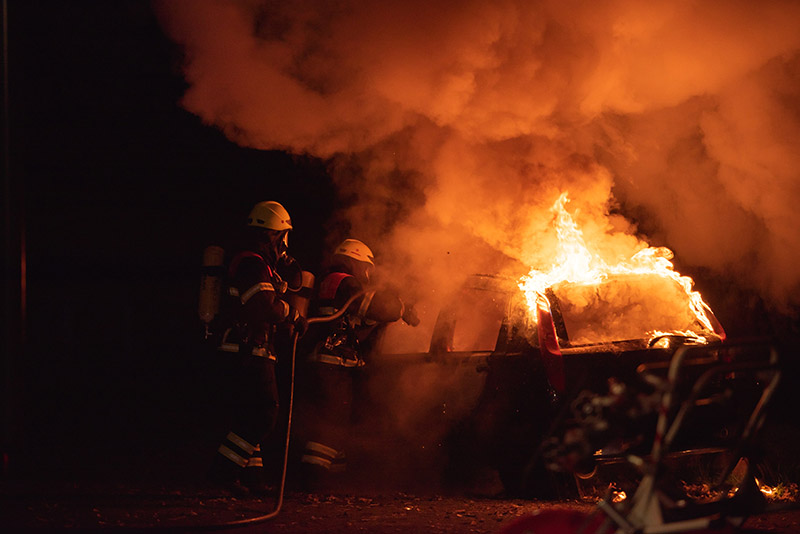 Reimagining Vehicle Rescue and Extrication Methods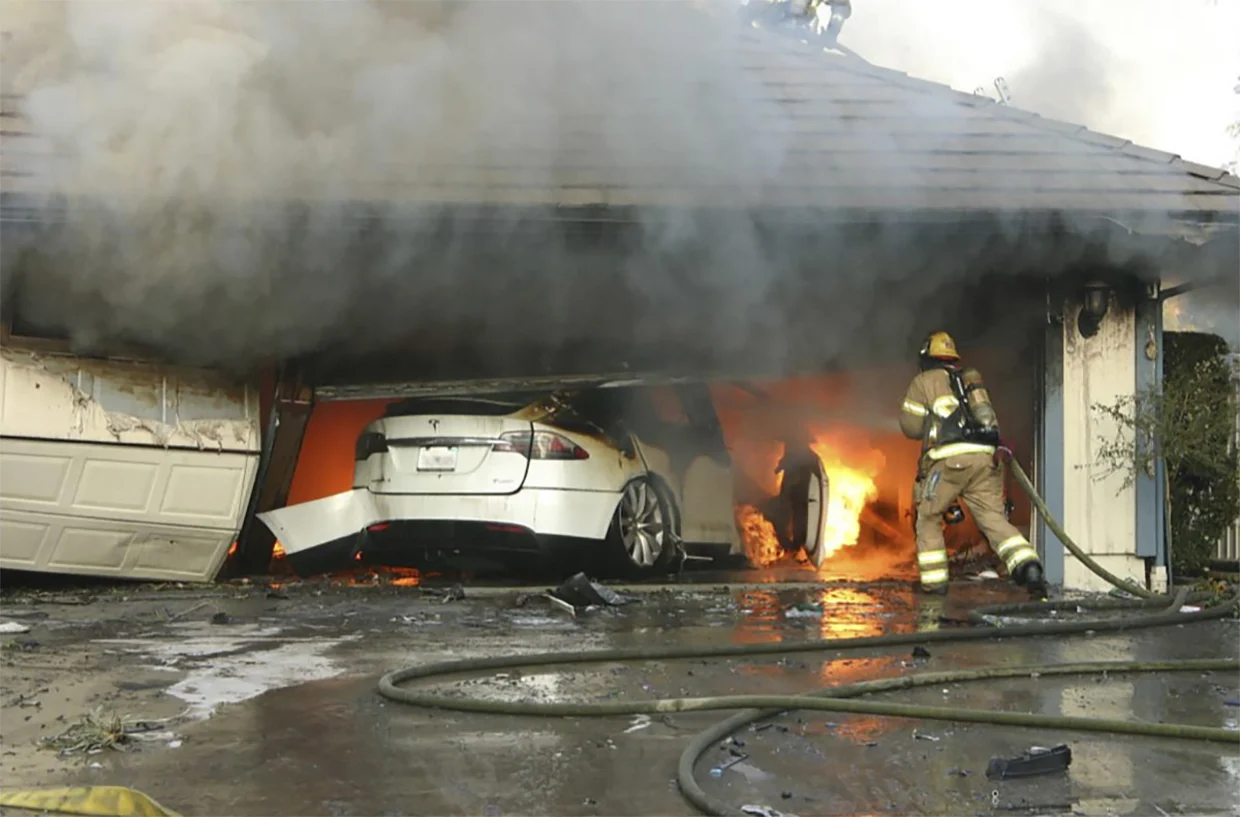 Federal regulators warn of risks to firefighters from electrical vehicle fires
Crosett Fire Department Now Hiring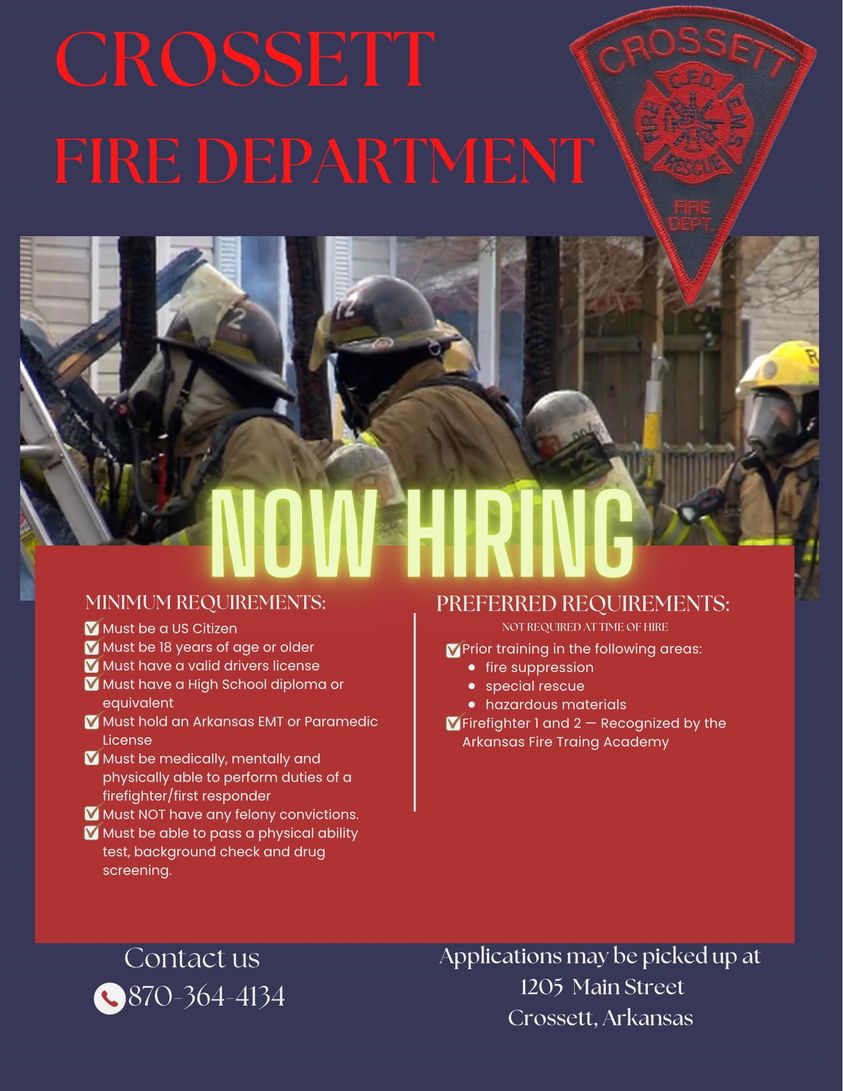 Bryant Fire Department Now Hiring
We are accepting applications for Firefighter/EMT. If you want a career where you matter and what you do matters, come check us out. No experience is required and we provide firefighter and EMT training. You can apply online at https://tinyurl.com/3zbzckmm 
An application must be completed and submitted to be considered for this position. You must be at least 18 years old to apply and no prior experience is required. Applications will be accepted now through 5:00 pm on September 29, 2023.
Gravette Fire Department Now Hiring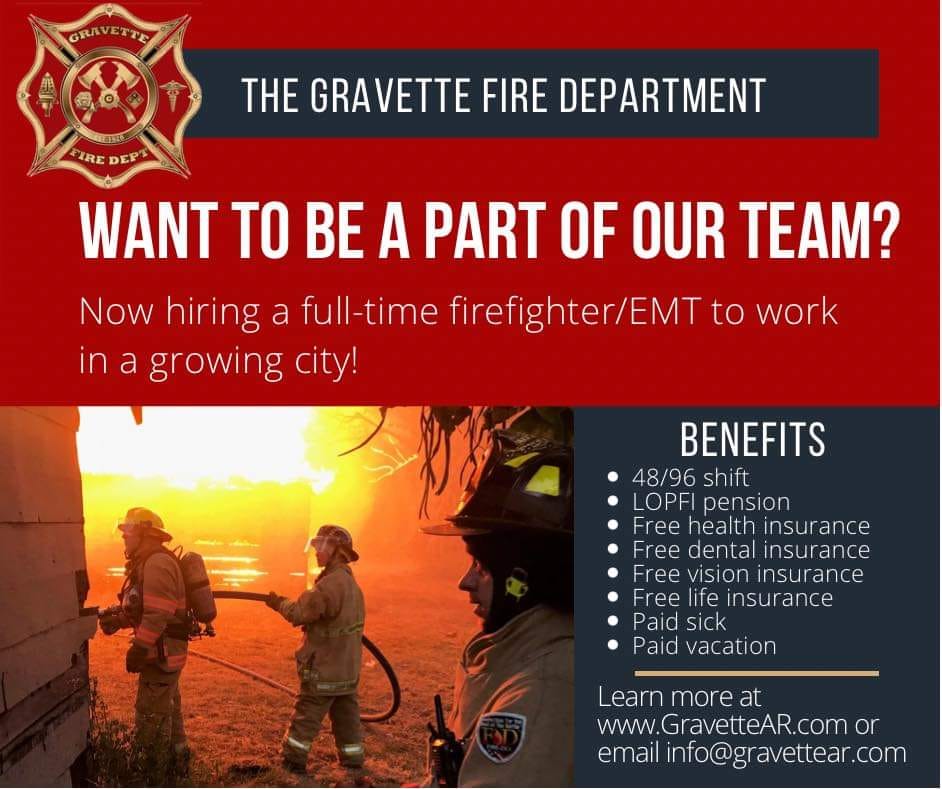 Paragould Fire Department Now Hiring
Paragould Fire Department is accepting applications. Scan the QR code on the flier for direct access to the webpage with all necessary information and requirements to apply for this job. Successful applicants will be notified of testing dates.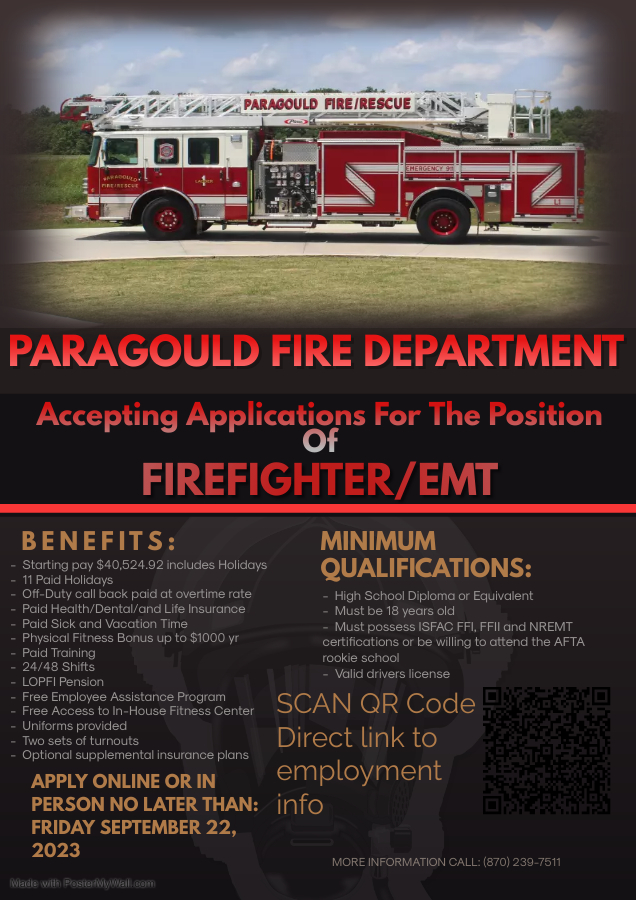 West Memphis Fire Department Now Hiring
#westmemphisfire is an "all hazards" (fire, rescue, EMS, HAZMAT, and tech rescue) ISO Class 1 fire department serving 27,000 residents at the intersection of I-40 and I-55 at the Arkansas-Tennessee border. Five fire stations, newly constructed four-story training facility, 48/96 schedule, and some of the best pay scales and promotional possibilities in the Mid-South.
We are a young, motivated, and rapidly changing department with LOTS of opportunities for hands-on training, IFSAC certification courses, special operations (SORT), etc.
Like to fight fire? We average 5-8 structural fires a month year for year.
Want to cut some cars? We serve the pinch point of the busiest north-south and east-west interstate highways as they cross the Mississippi River.
EMS your passion? Our Units are 100% ALS ambulances that are exclusively 911 response with dual-role personnel… and 15 minute access to some of the finest trauma, heart, brain, burn, and OB centers in America.
If you have a passion for Serving others – TRULY care for the people under your watch – and want to work in a growing, vibrant, exciting city… why not come join us?
Apps are accepted through Friday, September 29, with the AGILITY TEST Saturday, September 30 ("rain date" the following Saturday, October 7).
Our applications can be found here:
http://www.westmemphisutilities.com/412/Careers
Feel free to reach out to me with any questions, would love to tell you about the West Memphis Fire Department.
– Robert Mabe, Division Chief of Training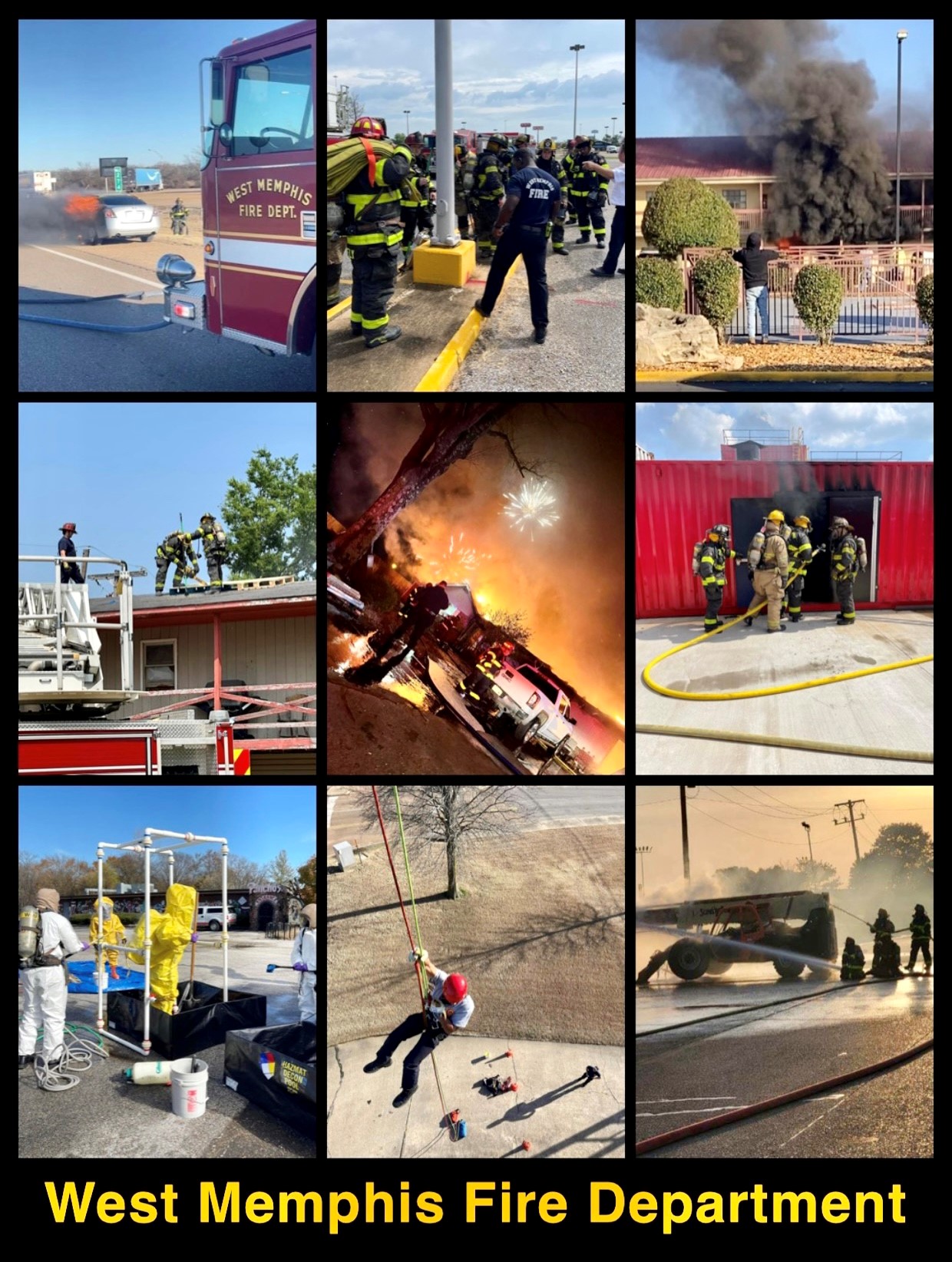 forrest city fire department hiring full time firefighter
The Forrest City Fire Department will be accepting applications for the following open positions: Full-time Firefighter. Candidates will be subject to the following hiring process:
an application submission
a background check
a Firefighter Entrance Agility Test course
a panel interview
if applicable, a fit-for-duty physical examination and drug screening
Candidates must successfully pass each portion to continue in the hiring process. Instructions for each process will be provided to candidates prior to the event. Applications must be fully completed, signed, and be notarized, where indicated, to be accepted for consideration.
Applications are available at the Forrest City City Hall, Forrest City Fire Department, station 1, and Arkansas Workforce Center on Eldridge Road. Applications can also be accessed on the Forrest City Fire Department Facebook page and can be emailed by submitting a request to shanedallas@forrestcityfire.com.
Completed applications, with all supporting documentation, will be accepted at the Forrest City Hall until 9 AM on Friday September 23, 2022. Candidates that pass the application and background process will be invited to participated in the FEATS course at 9:30 AM on Saturday, October 1, 2022.
Minimum Candidate Requirements Include:
Must be a US Citizen
Must be 18 years of age or older.
Must have a valid Arkansas driver's license
Must have a High School diploma or equivalent
Must be medically, mentally, and physically able to perform duties of a firefighter/first responder
Must NOT have any felony conviction
Must be able to pass a physical ability test, background check and drug test
Preferred Candidate Requirements Include:
Prior training in the following areas: fire suppression, emergency medical, special rescue, hazardous materials, etc
Emergency Medical Responder – recognized by the Arkansas Fire Training Academy
Firefighter 1 and/or 2 certified – recognized by the Arkansas Fire Training Academy
Emergency Medical Technician: Basic – licensed by Arkansas Department of Health
Full-time firefighters at Forrest City Fire Department are expected to successfully complete the following training curriculums in the time periods indicated (unless already have current certifications):
Emergency Medical Responder: Within first year
AFTA's Firefighters Standards – FFI, FFII: Within first year
Emergency Medical Technician – MREMT: Within second year
AFTA's Driver Operator: Within third year
Work Schedule:
24 hours on/48 hours off
work 10 shifts per month
Salary and Specialty Pay:
First year starting pay $37, 492.80
Second year pay: $41,767.44
Paid vacation
Paid sick leave
Holiday pay
Overtime Opportunities
Certificate Pay Available
Educational Pay Available
Percentage Bonus Available
Benefits
LOPFI Pension Retirement Plan
Medical Insurance
Dental Insurance
Vision Insurance
Life Insurance
Uniform Allowance
Tuition Assistance at EACC