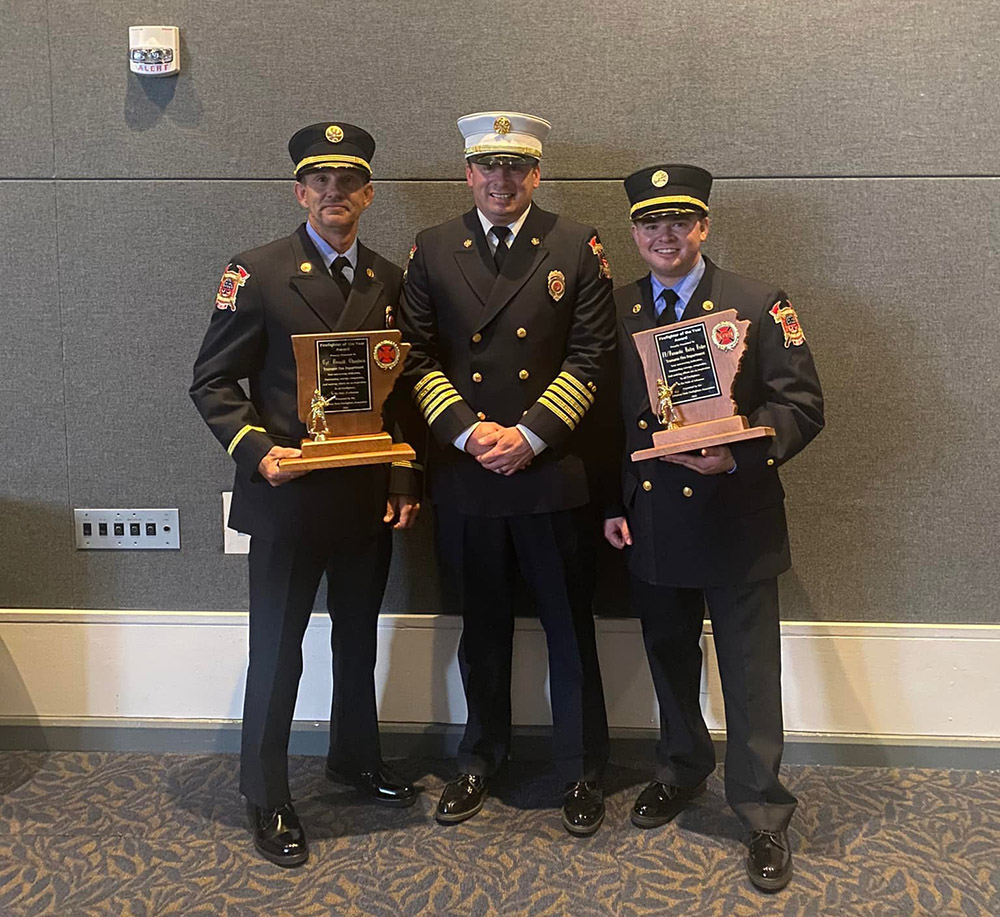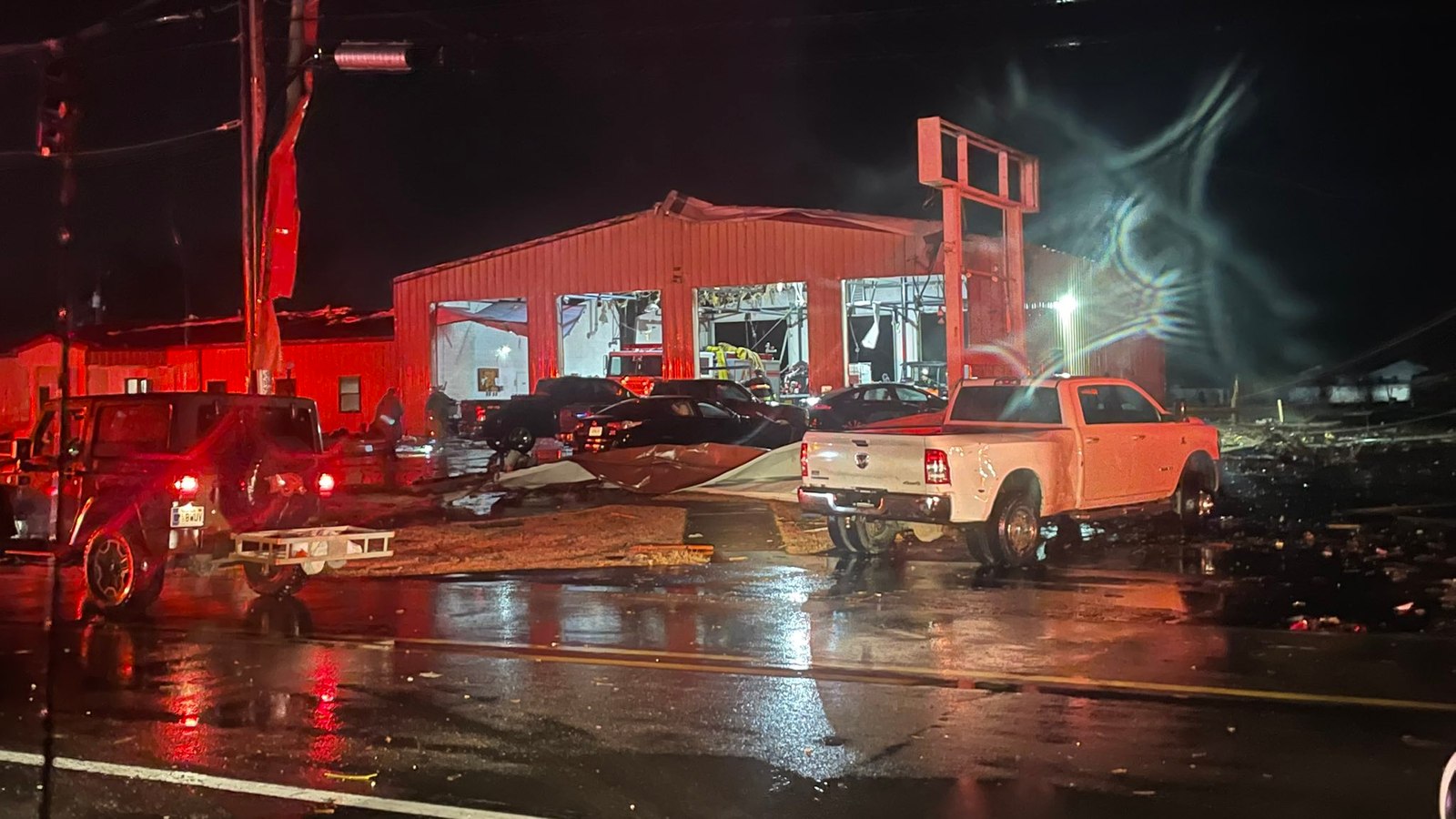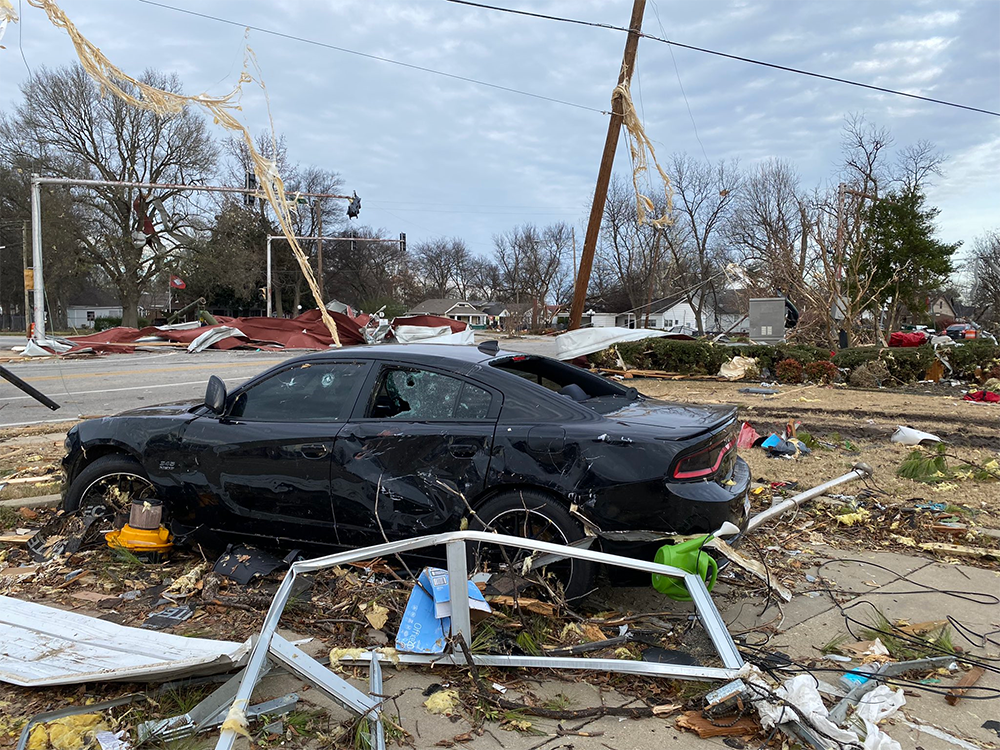 Don Chaudoin and Bailey Fisher
Trumann Fire Department | Firefighters of the Year 2022
Excerpt from the Firefighter of the Year Nomination Letter
December 10, 2021, the City of Monette was struck by a tornado causing major damage to a nursing home, with multiple injuries reported. I contacted two of my most dependable firefighters, both of whom were already out storm spotting, and asked if they would respond to Monette and help with the devastation caused by this storm. Like always, they both agreed, returned to the station, gathered gear and responded to Monette. 
Just as they arrived on scene of Monette, they were informed that the City of Trumann was in the direct path of another possible tornado. They immediately cleared scene and started back to Trumann. Inside the Squad Truck, the two firefighters could see the F2 Tornado as it tore through the City of Trumann and exited near the St. Francis River.
Theses two firefighters were the very first to arrive in the area of the most devastation to residential homes in the entire City, and was unreachable from any other area except where they were. They left the Squad Truck on the side of the road, grabbed their gear, and trekked into the neighborhood of what used to be homes, but was now a mass of twisted debris and downed powerlines. Firefighter Fisher, a paramedic, had our ALS medical bag with him, and Lieutenant Chaudoin, a rope rescue technician, had our rescue gear with him. The two firefighters immediately began to start making rescues. They treated multiple victims requiring ALS care; tourniquets, IVs, chest decompression, etc. were used. I remember very distinctly, their request for spine boards, ambulances, and manpower from me in the Incident Command Post.
Like the Marine's motto, they had to improvise, adapt, and overcome. They began to utilize residential doors blown from the hinges and commandeered a truck that had the keys in it to transport patients to an area where ambulances could reach them. They made 9 confined space rescues on that night and treated countless patients
There were over 100 patients treated in triage with no deaths recorded in the City of Trumann during this incident. It is my opinion that these two firefighters are the primary reason for no deaths that night and are true American Heroes. The dedication of service before self is what drives these two firefighters and sets them apart from everyone else
Nominated by Revis Kemper, Fire Chief
kevin mcmasters rookie of the year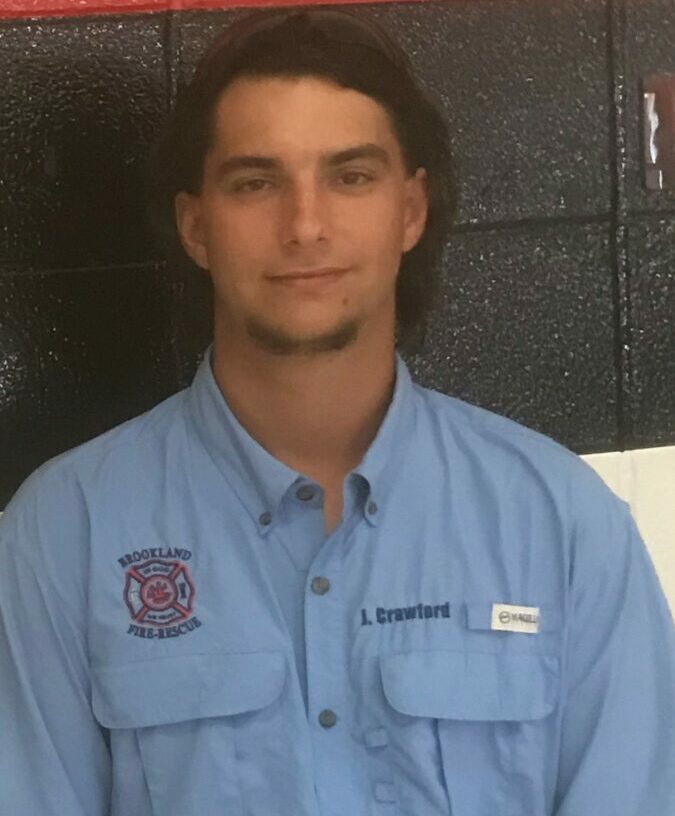 Brookland Fire Protection District | Kevin McMasters Rookie of the Year 2021
Jonathan has grown up around the fire service. Since joining Brookland Fire Protection Districton July 11, 2019, he has consistantly attended training, whether it has been "in house", the Jonesboro Training site, or traveling to other departments. He is currently at the training level to test for FF1 and FF2. He is extrication trained thru Bus Extrication. He has consistantly and competently performed duties as driver/operator, hoseman, an incident command. He is not only trained on the apparatus at his assigned station, but the apparatus at all three stations. He was our top responder this past year, even while his POV was in the shop, he would run over 2 blocks to get to the station to make calls. He is always willing to to help with extra projects and help train others coming up behind him. He does all of this while holding down a full time job, raising a daughter, and spending time with his family.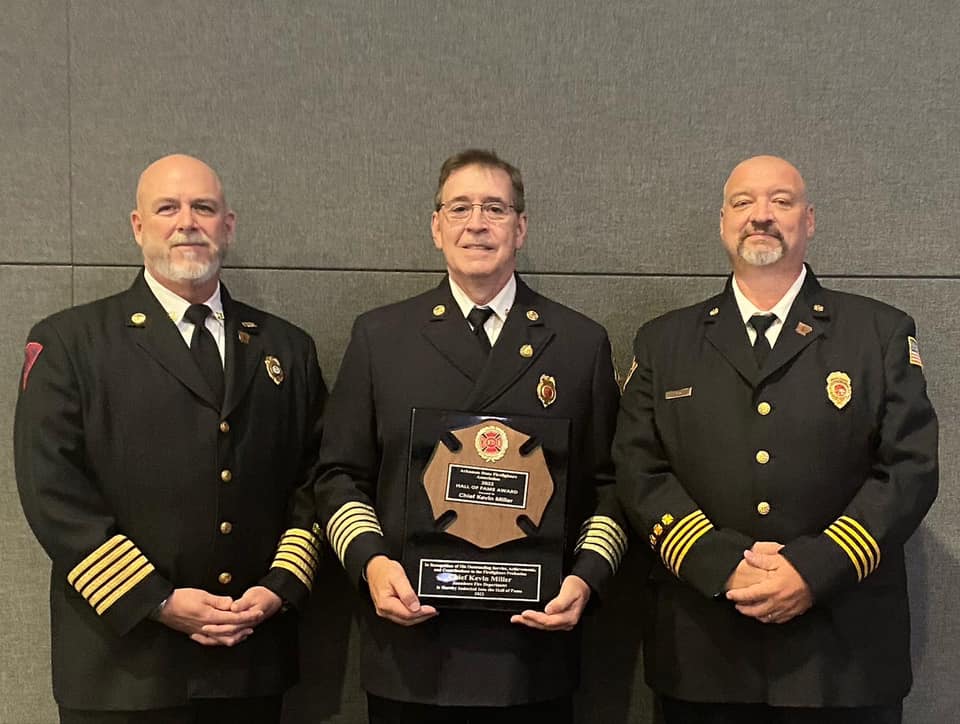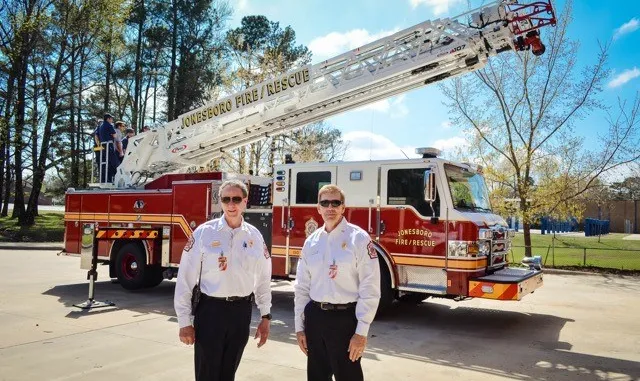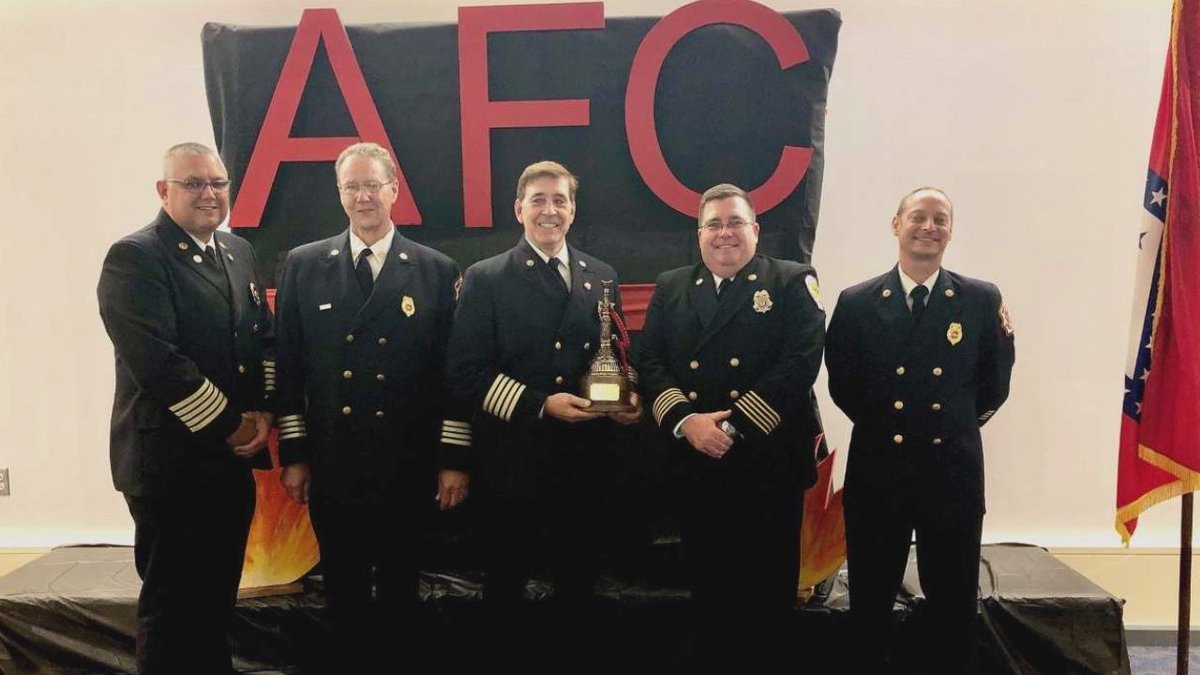 2022 inductee: Kevin Miller 
Jonesboro Fire Department
Kevin began his service in 1980 as a Junior Firefighter with the Philadelphia Fire Protection District and counted the days until he was old enough to test for the Jonesboro Fire Department and was hired in 1987. Kevin has always known his life's calling was to be a firefighter.
Throughout his career, he has always put the fire service first and found numerous ways to make it better, not only for the JFD but better for the State of Arkansas.
As I write this, I find it hard to describe just one thing that makes Kevin deserving of induction into this distinguished group of Arkansas Firefighters. Kevin has always done the work "in the shadows" never wanting recognition for himself. I find it hard to believe that there are many firefighters in the state who do not know him at this point of his career. Kevin has been instrumental at getting the Arkansas Fallen Firefighters Memorial funded, designed, and built. He has spent hours investing in Arkansas firefighters as an Adjunct Instructor with the Arkansas Fire Training Academy where he freely shared his knowledge so others may be better prepared. Kevin received the Outstanding Instructor award for those efforts.
Kevin has served as President of the Northeast District of the AFFSA as well being on the Board of Trustees for the AFFSA. He also served in the AAFC as Northeast Representative, State Vice President, and State President. Currently, he serves on the Board of Trustees for the Firefighter Cancer Review Board.
Kevin has received many awards for his dedication and service to the State of Arkansas and its firefighters.
1986 – Philadelphia Fire Protection District Firefighter of the Year
2000 – Thomas E Cole Memorial Service Award
2007 – Outstanding Instructor AFTA
2019 – Thomas E Cole Memorial Service Award
2019 – AAFC E W Sewell Award
Kevin Miller has done much more for the fire service than many of us will never know. He is truly an asset to the firefighters of this state and a champion for the fire service.
Thank you for your consideration,
Marty Hamrick
Jonesboro Fire Department
2022
Kevin Miller | Jonesboro Fire Dept
2021
Roger Smith | Hot Springs Village Fire Dept
2020
Steven Farmer | Brookland Fire Dept
2019
Howard Edwards | Warren Fire Dept
2018
Mac D. Holmes | West Memphis Fire Dept
2017
Fred Heath | Wynne Fire Dept
2016
Erby Campbell | Earle Fire Dept
2015
Kevin McMasters | Bay Fire Dept
2014
Bonita Yount | Monticello Fire Dept
2013
Danny Holbaugh | Bald Knob Fire Dept
2012
Tom Martin | Searcy Fire Dept
2011
Greg Gray | Forrest City Fire Dept
2010
Ray Dunemn Monticello | Fire Dept
2009
Doug Baker | Searcy Fire Dept
John B. Gleghorn | Batesville Fire Dept
William B. Seaton | Camden Fire Dept
2008
Robert Edwards | Arkansas Fire Academy
2007
Stacy Caplener Pleasant | Plains Fire Dept
2006
David Schwarz Weiner | Fire Dept 
Dan White Bentonville | Fire Dept
2005
Stephen Jones Imboden | Fire Dept
Wayne Miller Philadelphia | Fire Dept
2004
Joseph B. "Joe" Brock | Pine Bluff Fire Dept
Tommy Morgan | Hamburg Fire Dept
2003
Dan Curtner | Wynne Fire Dept
Bob Davis | Batesville Fire Dept
2002
Rachel Ann Nix | Arkansas Fire Academy
Mickey Jackson | Fayetteville Fire Dept
2001
Raymond W. Chisom | Monticello Fire Dept
Edward "Buddy" Lynch | Stuttgart Fire Dept
2000
Johnny Reep | Little Rock Fire Dept
William B. "Bill" Lundy | Little Rock Fire Dept
1999
Johnny Rickman | Jonesboro Fire Dept
Michael Hughes | Texarkana Fire Dept
1998
Harvey Jacks | Pine Bluff Fire Dept
James Hill | Forrest City Fire Dept
1997
Clay Whaley | Wynne Fire Dept
James Launius | Crossett Fire Dept
1996
Billy King | Blytheville Fire Dept
J.W. Cummings | Batesville Fire Dept
Joe Coker | Walnut Ridge Fire Dept
1995
Ray Jacks | Pine Bluff Fire Dept
| West Helena Fire Dept
1994
| Searcy FD
Fred Rorex | Jonesboro Fire Dept
1993
Jim Gates | Walnut Ridge Fire Dept
1992
Blanchard Cooley | New Port Fire Dept
1992
Billy R. Powell | LePanto Fire Dept
1991
Johnny Rice | Forrest City Fire Dept